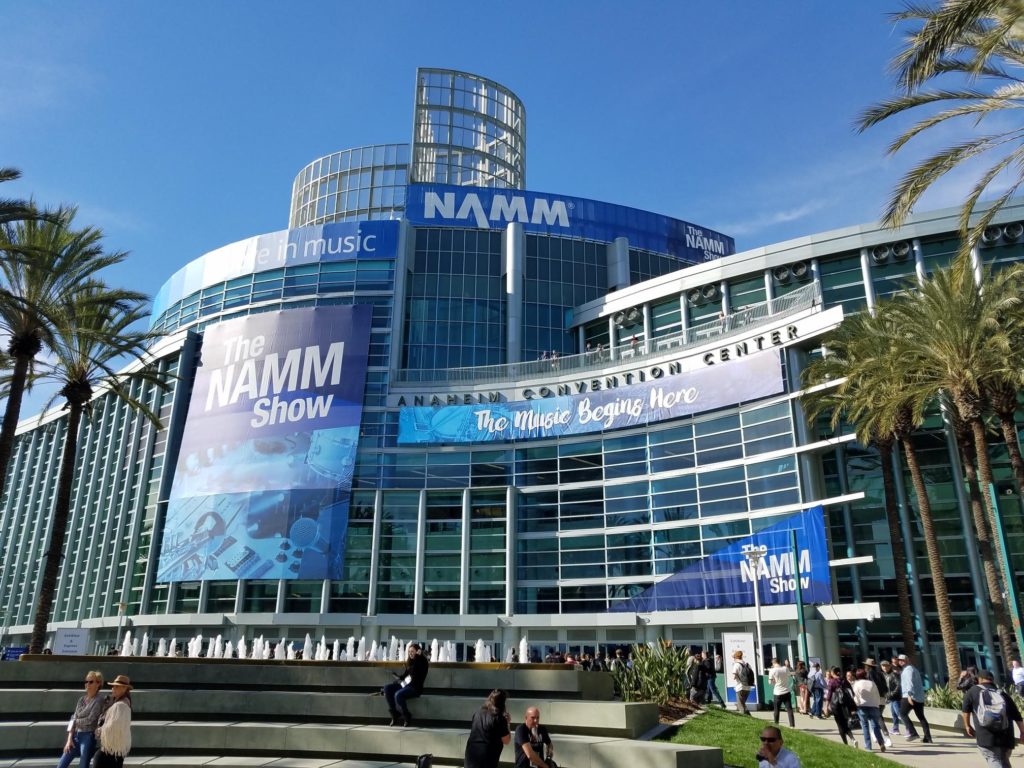 Every January representatives from Menchey Music attend a conference called The NAMM Show. If you are not in the industry, you may have no idea what that is and why it matters.  So we thought you might be interested in learning what The NAMM Show is all about and why it is the biggest music industry event of the year.
NAMM stands for the National Association of Music Merchants. NAMM was established in 1901 as a not-for-profit association. Here is a brief history of NAMM:
Before there was an industry or an association, there was a belief…in music. That belief led to a vision: We envision a world in which the joy of making music is a precious element of daily living for everyone; a world in which every child has a deep desire to learn music and a recognized right to be taught; and in which every adult is a passionate champion and defender of the right. That vision led to a mission: To strengthen the music products industry and promote the pleasures and benefits of making music.
More than a century later, that vision and mission have attracted a growing, thriving worldwide community of thousands of deeply passionate, talented companies that make, buy and sell the instruments that allow millions of people to make music. That community is called NAMM, the trade association of the international music products industry. (Source: https://www.namm.org/about)
The NAMM Show can be attended by anyone involved in the music industry – vendors, retailers, music educators, & musicians. Vendors large and small attend The NAMM Show in order to show off new products or to get more exposure in the industry. You will find large brands like Hal Leonard, Martin, and Fender set up on the floor showing off their newest products. You will also see small vendors who are trying to expand their footprint in the music industry and grow their brand. The NAMM Show floor is like a small city where all the vendors show off their new and top products. Menchey company representatives get to try out the new products, ask questions, and make informed buying decisions about the products we will carry for the upcoming year. As you can imagine being in a room with thousands of musicians, can be loud. This does not stop anyone from trying out a new saxophone model or testing the latest guitar effects pedal.
There are also educational panels ranging from music business, audio production, music retail and so much more. Another great part of The NAMM Show is their Retail Innovation Summit. This education initiative is a full day event where you can select different tracks and learn tips from the best of the best.
This week you may see we are posting a lot from The NAMM Show. We want you to experience these new products and help us decide what you'll see in our stores in 2019!