Menchey Music Service, Inc.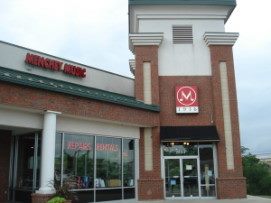 Musical Instruments and Music Lessons
Broad Street Market
(Padonia Rd between I-83 & York Rd)
2444 Broad Avenue
Timonium, MD 21093
(410) 453-6635
Email Menchey Music menchey_info@menchey.com
Our Baltimore / Timonium MD store is located just north of Baltimore off I-83.

The Menchey Timonium store features the largest authorized Yamaha piano gallery in the Baltimore area, showcasing pianos for every style and budget, including top-quality Yamaha acoustic, Yamaha Clavinova digital pianos, and electronic player pianos. We offer music instrument lessons and voice lessons for all ages and abilities. We rent, sell, and service pianos, guitars, band instruments, and orchestra instruments. You'll also find a full inventory of instrument accessories and sheet music.
Store manager: Kate Olsen
Store Hours
| | |
| --- | --- |
| Monday | |
| Tuesday | |
| Wednesday | |
| Thursday | |
| Friday | |
| Saturday | |
| Sunday | |
Products and Services offered at this location:
Intermediate Band and Orchestral Instruments
Guitars, Amps, Personal Pro Audio
Instructional & Popular Print Music for Piano, Guitar, Band & Orchestra Instruments
Musical Accessories and Gifts
Piano Gallery
Menchey Music is the exclusive authorized piano dealer for Yamaha pianos in the Baltimore area. Here at our Baltimore store (located just off I-83 in Timonium), we have a full gallery of Yamaha pianos you can try before you buy. We carry a variety of acoustic pianos (primarily Yamaha line) and electronic pianos (primarily Yamaha's Clavinova line). The Yamaha Disklavier line includes both upright models and grand piano models that are a modern-day update on the "player piano" — they incorporate state-of-the-art digital technology so piano performances can be recorded and played back. The Yamaha Clavinova line includes a variety of electronic piano models which are more affordable and compact than their acoustic counterparts while having additional electronic features and maintaining the rich sound that musicians expect from Yamaha pianos.
Guitar Sales and Rentals
Menchey Music is the ideal guitar store for beginning guitar players and students. We carry a variety of quality acoustic and electric guitars for sale and through our rent-to-own program. At our store we also sell all accessories a guitar player needs, including guitar picks, strings, straps, and cases, along with amps and portable P.A. systems. The guitars we carry in our store include Fender, Martin, Yamaha, J Turser, Ibanez, and Line 6.
Musical Instrument Lessons
Menchey Music offers lessons for students of every band and orchestra instrument, and sessions with our piano instructors and guitar instructors are popular, too. We even offer voice lessons. Students can schedule their first appointment online where pricing information is complete and transparent. As a bonus, students enrolled in instrument lessons at Menchey Music receive a 10% discount on print music and priority access to repair services.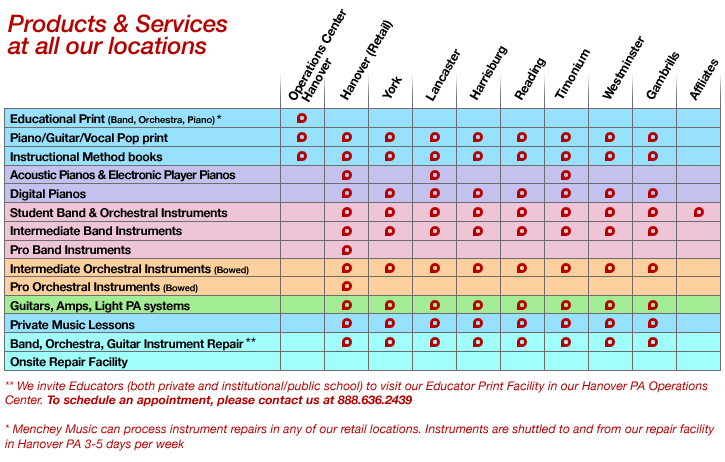 Schools We Serve From This Location
From the Timonium Menchey Music store, we are proud to support students involved in the music programs in these local school systems:
School Districts
Baltimore County Public Schools
Baltimore City Public Schools
Carroll Co Public Schools
Howard Co Public Schools
Harford Co Public Schools
Private Schools
Loyola HS
Park School of Baltimore
McDonogh School
Gilman School
The Bryn Mawr School
St. Pauls Schools
Friends School of Baltimore
Gerstell Academy
Boys Latin
Baltimore Lutheran
The Baltimore Montessori School
Notre Dame Prep
Calvert Hall
St. Demetrios
Colleges
Towson University
Stevenson University
Find Us on Google+