Piano Department
Welcome to the Largest Yamaha Piano Dealer in Central PA and Greater Baltimore Area
Yamaha Red Envelope Savings are here! Whether you're looking for a piano for yourself or your child, now is a great time to consider a Yamaha piano purchase. Through Yamaha's Red Envelope promotion, you can get 0% APR* for up to 18 months on a fantastic new Yamaha piano. On top of this great offer, Menchey Music is offering in-store rebates.
Large Selection of Yamaha Acoustic Pianos Available in Lancaster, PA and Timonium, MD Locations
Menchey Music Piano Gallery locations carry a full line of Yamaha acoustic grand, vertical pianos, Yamaha Disklavier electronic player pianos, and the award-winning Clavinova digital pianos.
Yamaha Clavinova Digital pianos are available in all 8 Menchey Music locations.
---
Which Piano Style Is Right For You?
Click on a piano style to learn more about its features.
---
About Yamaha Pianos
Since Torakusu Yamaha built Japan's first piano in 1900, Yamaha has consistently led the way in finding new methods to improve upon the age-old traditions of piano-making. These innovations have been adopted not only by Yamaha, but by other manufacturers as well. This century-long quest for excellence has resulted in higher standards of quality, consistency, efficiency and performance throughout the piano-making industry. It has also made Yamaha the world's leading piano manufacturer.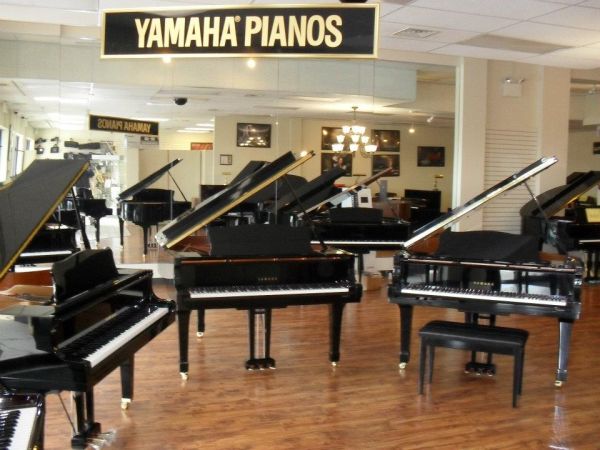 Pianos on display at our Lancaster, PA store.
Our Yamaha Piano Warranties
Menchey Music offers a full 10-year warranty on all Yamaha acoustic pianos and a 5-year warranty on Clavinova digital pianos.
---
Shop for Used Pianos and Closeouts
---
Piano Services
Menchey Music offers tuning and other technical services for your piano or digital piano, including delivery.
Piano Services
---
Private Piano Lessons
No matter what a student's musical interests may be, learning to play the piano provides a great musical foundation. Singers and instrumentalists of all kinds can benefit from taking piano lessons. And it's never too late to start!
Piano Lessons
---
Contact Us About Pianos
For questions about our pianos or if you have a piano you are interested in selling:
In PA, please call 717-569-8100 and ask for Gail Draude or email Gail.
In MD, please call 410-453-6635 and ask for Tom Mathis or email Tom.