The Best Selection of
Yamaha Pianos in the Area
Visit one of our 8 retail stores across Central Pennsylvania & Maryland or schedule a virtual appointment to shop our large selection of pianos. Menchey Piano Gallery locations in Timonium, MD & Lancaster, PA  carry a full-line of Yamaha acoustic grand pianos, upright pianos, Yamaha Disklavier electronic player pianos, and the award-winning Clavinova digital pianos. Yamaha Clavinova digital pianos are available at all eight locations.
Which Piano Style is Right for You?
Click on a piano style to learn more about its features.
"Purchased the Yamaha NU1X Avantgrand. Staff was helpful and well informed. Their piano movers did an excellent job getting the piano up two flights of stairs."
– Rick Fleming(Google Review)
"We were looking for a new piano for our church. Robbie was very helpful with all my questions and helped me find something that would fit our needs!! Thank you so much!!"
– Juliet Mitton(Google Review)
"I went to the Menchey's in Timonium to look at a used Yamaha piano I was interested in. Tom was very helpful, nice, and knowledgeable. He was able to take the piano apart and show me all the insides so I could see that it was in mint condition. He also played a few songs and is very talented! I purchased the piano and the delivery went smoothly. My piano comes with a warranty and 1 free tuning. Very happy with my experience at Menchey's in Timonium and would highly recommend!"
– Justine Somoza(Google Review)
---
Grand Pianos
We have the popular C3 grand piano, baby grands, classic grands, and concert grand pianos, including pianos from the Yamaha G Series and CX Series.
Clavinovas
Yamaha has been the leader in digital pianos with their award-winning Clavinova line. The Clavinova is currently available in three different series, the CLP, CVP, and new CSP models.
Piano Spotlight: Yamaha Clavinova CSP
The Yamaha Clavinova CSP teaches you how to play your favorite songs, from music stored on your smart device.
The Yamaha Clavinova CSP teaches you how to play your favorite songs, from music stored on your smart device.
Used Pianos & More
As a full-service piano dealer, we must quickly sell and deliver instruments at clearance prices to make room for new acoustic and digital pianos. Professional technicians perform a thorough inspection and cleaning of each instrument. This includes an inside vacuum, key cleaning and touch up, and tuning and key action testing.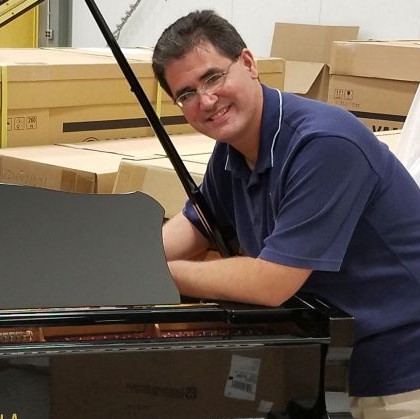 Piano Tuning, Repair, and Delivery
Menchey Music offers tuning and other technical services for your piano or digital piano, including delivery.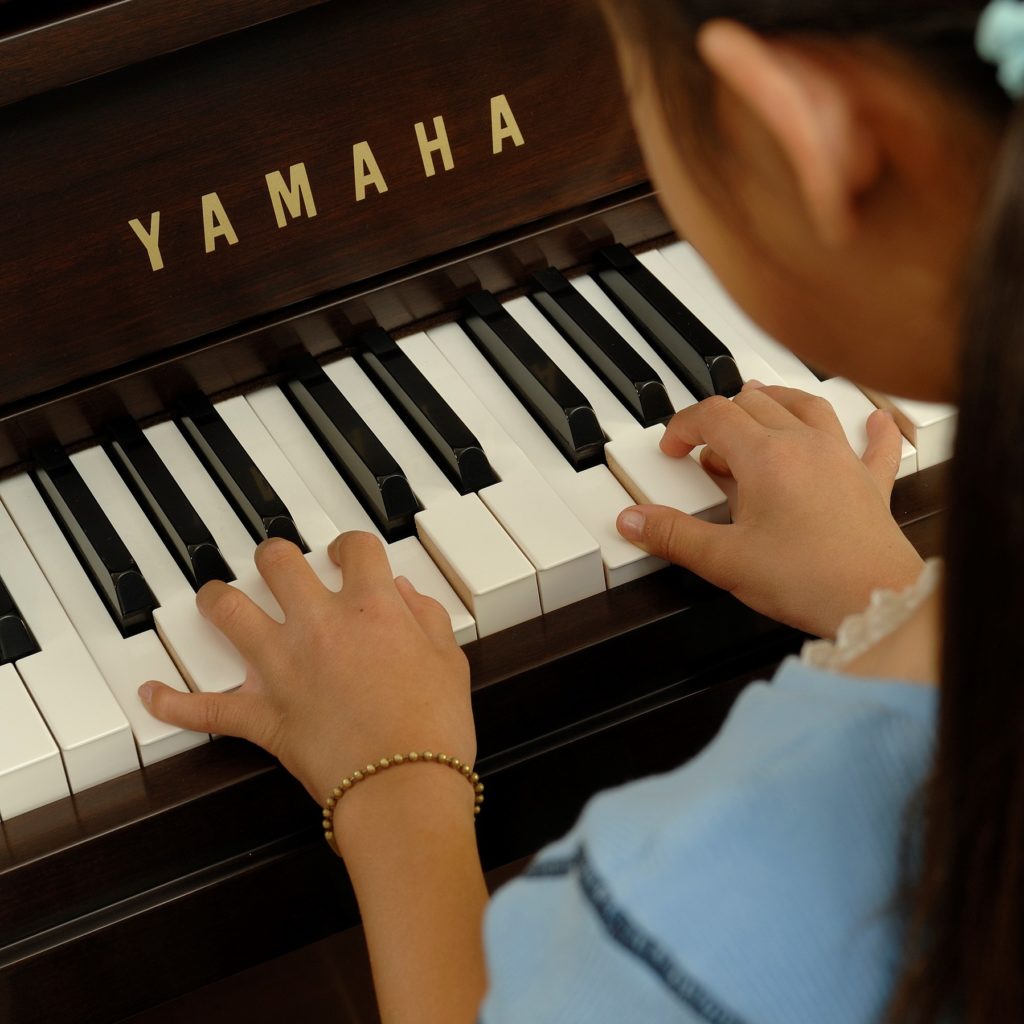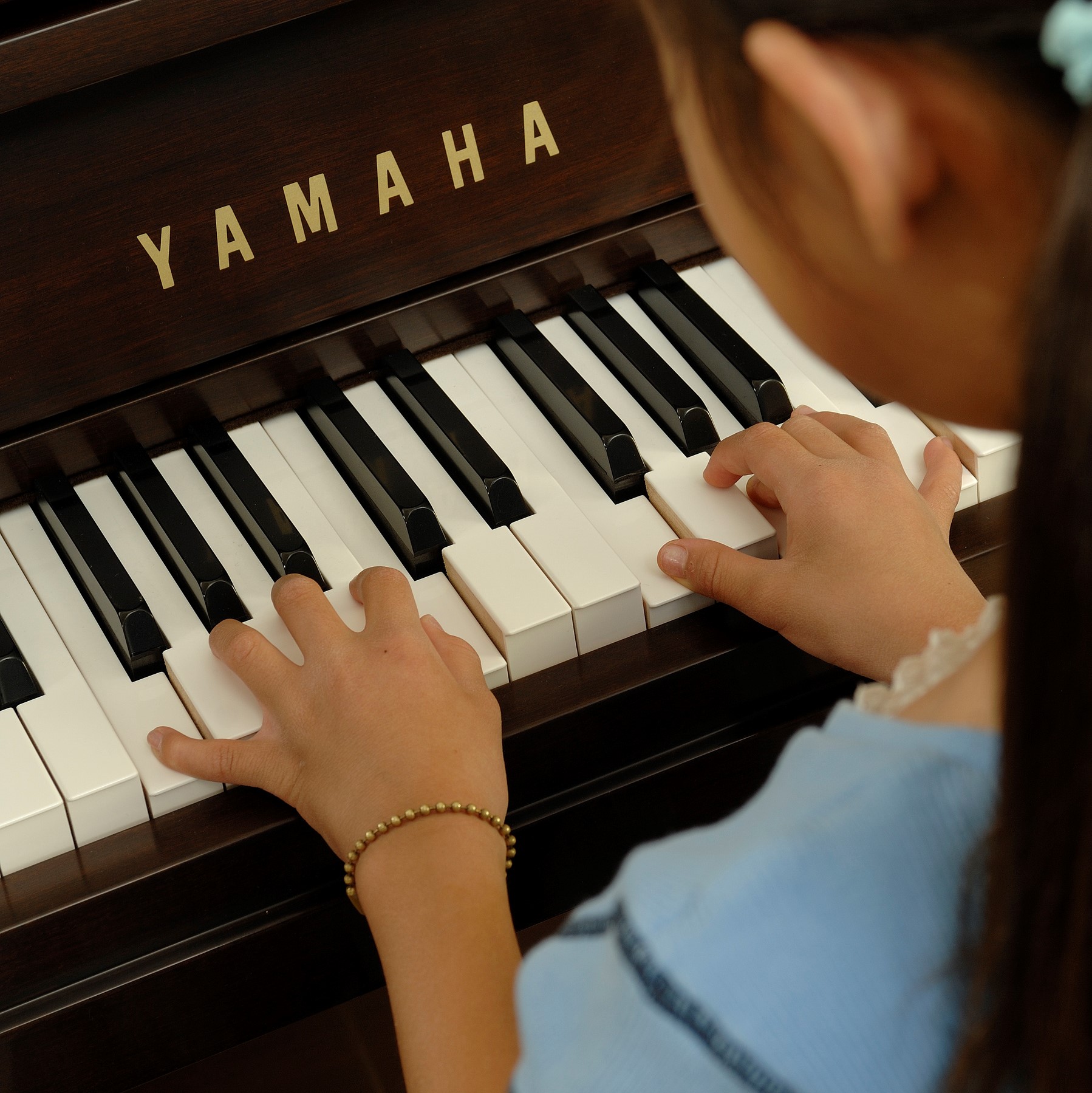 Private Piano Lessons
No matter what a student's musical interests may be, learning to play the piano provides a great musical foundation. Everyone can benefit from taking piano lessons and it's never too late to start!
Piano FAQ
When considering the purchase of a piano, it is always best to visit a reputable dealer with a solid reputation for offering pianos that will meet the standards required for producing musical excellence. The dealer will truthfully answer questions about the various makes and models and can address issues such as tuning stability, action regulation, tonal quality, musical capability and serviceability of the piano. If you are a player, you should sit down at the instrument and play it. You can best judge if the instrument meets your expectations for touch, sound, playing enjoyment and musical expression. Our professional staff at Menchey Music is highly experienced to answer any questions related to selecting a quality and reliable piano.
Selecting a good used piano can be tricky. The internet is flooded with many choices including "free piano if you will haul it away." Unless you are willing to hire a piano technician to inspect the instrument, we would recommend not going this route. Generally, a free piano is one that someone has been unsuccessful in selling for myriad reasons and hopes that someone else will pay the expenses of moving and costly repairs. Except for a very rare case, most of these instruments were mass-produced and have already lived their life of usefulness. Many times, there can be service issues that are more costly to repair than the value of the piano. Many people have gone through the costly moving process only to find that a mistake was made and that the piano requires hundreds of dollars of work.
The choice of whether to buy an acoustic or digital piano largely depends on your lifestyle, individual goals, and musical needs. An acoustic piano is a classic stringed piano available as either a grand or upright. The basic technology involved with building an acoustic piano has not changed much over the past 150 years. An acoustic piano needs regular tuning (recommended a minimum of twice per year). The acoustic piano also requires that it be kept in a regulated and consistent environment of temperature and humidity. A digital piano never requires tuning and can function where temperature and humidity regulation can be more erratic. A digital piano has headphone connectivity for silent play and many technological advances allowing for recording, voice changes, and app connectivity with Wifi and Bluetooth. The best digital pianos have graded hammer keyboards that replicate the touch and feel of a fine grand piano. The piano sound is digitally sampled from that of a fine concert grand piano and replicates the acoustical attributes of a fine acoustic piano.
Get the best instrument you can afford when starting your child on piano lessons. A well-functioning, weighted, and touch-responsive instrument is of paramount importance for the success of learning to play the piano. It is best to not sacrifice just because the student is a young beginner. The keyboard should be weighted and touch-responsive and the sound should be in-tune and pleasing to the ear. Do not go the route of acquiring that "free piano on the internet" or a relative's old piano, as most likely it will lack the musical quality necessary for success. If you go with a digital piano, make sure that it has an 88-note weighted and touch-sensitive keyboard.
Pianos come in two basic types — grands and uprights. Aside from looking different, there are many other differences in design and engineering that make these instruments function and perform quite differently. Uprights were originally designed to save space and fit into a smaller room environment. The strings of an upright run vertically from the bottom to the top of the piano as contrasted to the horizontal stringing of a grand piano. Upright hammers strike the strings by moving forward laterally and return with springs. A grand design allows for the hammers to strike the strings from the bottom up to the string and utilizes gravity to return the hammer to a striking position. A grand piano mechanism repeats a note approximately 50% faster than an upright action. The keys of a grand piano keyboard are considerably longer than those of an upright piano. The longer keys produce more leverage which allows for a faster and more responsive keystroke. Think of the difference between a seesaw with a longer board and one with a shorter board. If all else is equal the grand piano will produce a larger range of tonal characteristics, repeat faster and play with more control to every musical nuance. The experience of playing a fine grand piano cannot be duplicated. When budget or space is an issue, a nice quality upright piano can produce good results, but playing a fine grand is like stepping up to the next level.

I have been told that Yamaha is a very good value in pianos. What makes a Yamaha piano such a good choice?

Yamaha has been building fine pianos for almost 120 years since manufacturing began in 1902. Torakusa Yamaha developed the Yamaha piano after traveling to the United States in 1899 to study piano making methods. On his return, he began production, completing Yamaha's first piano in 1900 and the first Yamaha grand in 1902. The quality of these instruments was immediately evident, earning the Most Outstanding Award at the 1902 Japanese Industrial Exposition. Over the years, Yamaha pianos have continually evolved to incorporate new capabilities and the latest technologies. Today, Yamaha pianos are recognized by concert pianists, music teachers, conservatories of music, concert halls and recording studios for their amazing tonal quality, responsive key action, manufacturing precision, and tuning and service reliability.
Contact Us About Yamaha Pianos
For questions about Yamaha piano selection and pricing: