Print Music
Many communities no longer have a local music store where you can shop for print music. At Menchey Music Service, we realize that being able to hand-pick sheet music is important to you, so we maintain a large selection of print music in our Retail Stores and our Educator Print Music Center. We are one of the largest print music dealers in the United States by volume and have an extensive network of music publisher resources, so we can get the music you need.
We realize that your time is valuable and want to make shopping for musical supplies convenient, so we also have print music available for sale online!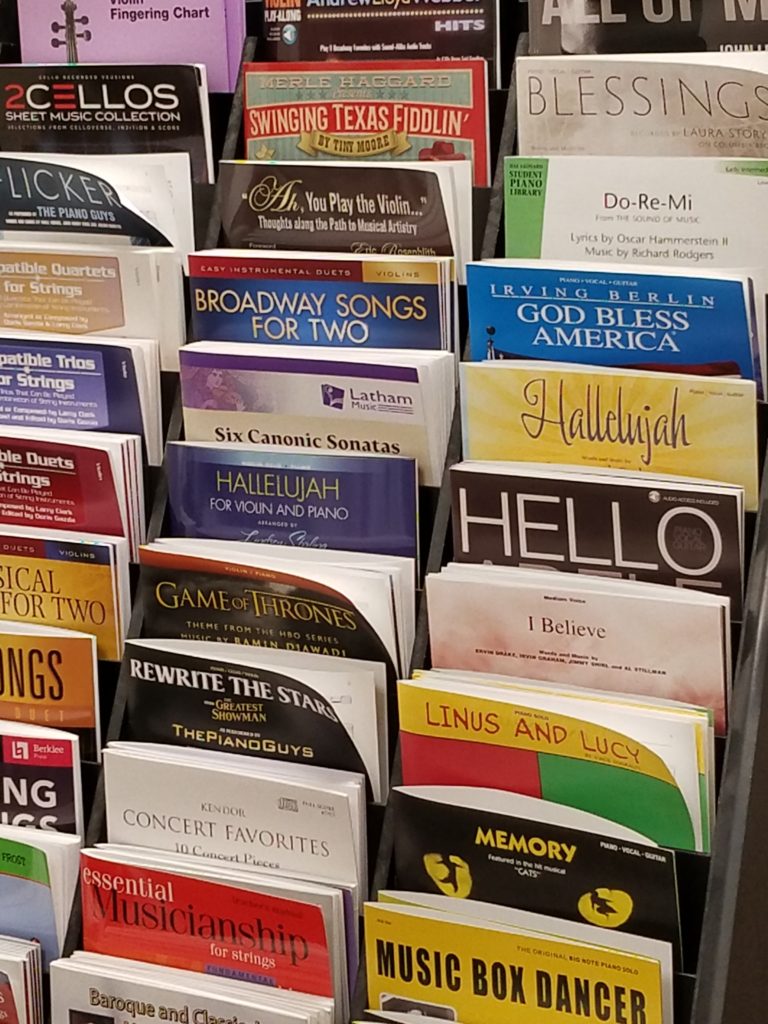 Retail Stores: Our retail stores offer educators, students, and recreational musicians a wide selection of in-stock popular and educational print music for band, orchestra, piano, guitar, and voice.  If we don't have the music in stock, our team of music specialists will be happy to research and order the title from our network of music publishers.  We will even print music on demand while you shop.
Educator Print Music Center: Our educator print music department, open by appointment in our Hanover, PA Operations Center, specializes in all areas of educator focused print music – instrumental, keyboard, vocal, and guitar.  Our instrumental department includes band arrangements for marching, jazz, & concert band, full & string orchestra arrangements, solo & ensemble music for wind, percussion, and string instruments and instructional methods for band & orchestral instruments. Our keyboard department includes educational and performance music for piano and keyboard.  We also have a wide selection of vocal and guitar method books. Menchey Music stocks over 100,000 titles in this location, and we have access to print music from a network of several hundred publishers in the industry.
For more information about our Educator Print Music Center or to schedule an appointment, please feel free to contact us at:
Phone: 888-636-2439 or 717-637-2185
Fax: (717) 637-1978
Diane Myers, Instrumental Print Specialist x 215 dmyers@menchey.com 
Susan Frey, Keyboard Print Specialist x 233 sfrey@menchey.com