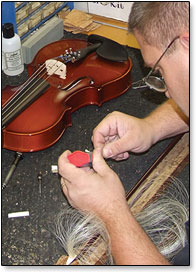 Menchey Music Service has one of the most complete and modern repair departments in the country. We employ technicians in our Operations Center in Hanover PA who can repair woodwind, brasswind, string, and fretted instruments with typically a 1-week turnaround.
Testimonial
"For many years, our organization, then known as The Baltimore Colts' Marching Band had a partnership with Menchey Music Service. In January 2017, we renewed our relationship with Menchey and we are now known as Baltimore's Marching Ravens, official marching band of the Baltimore Ravens football team.
The Menchey employees have gone beyond the call to keep the Marching Ravens performing in top notch capacity along with the care and dedication to our instruments. Their advice and direction has been invaluable. I highly recommend Menchey Music Service for all of your music needs. Menchey Means Music. "
John Ziemann, Band President, Baltimore Marching Ravens
Below are some basic instrument maintenance for parents and students. In addition Menchey Music offers a password protected Educator Resource Page

which includes

  a library of more advanced do-it-yourself emergency repairs for music educators. Enjoy!
Brass Instruments
---
---
Woodwind Instruments
---
---
String Instruments
---
---
How to select the correct size violin or viola (video coming soon)
Sizing Chart for Violin/Viola (PDF)
For more information on our repair service, please contact us at Our Email or 1-888-MENCHEY (636-2439) x 223.