Orchestral String Gallery
---
Welcome to the Menchey Orchestral String Gallery located in Hanover, PA. Menchey Music Service has been servicing beginning musicians and school music educators since 1936, and we are pleased to offer intermediate and advanced orchestral instruments to students as well as finely crafted instruments for professionals. Wherever you are on your musical journey, we are able to fully support you along the way. 
The Orchestral String Gallery includes a wide selection of intermediate and professional  instruments, bows, cases and accessories. The gallery allow customers to try out instruments in privacy and includes a comfortable environment for parents and teachers to evaluate the instruments.
We invite you to visit the Menchey Orchestral String Gallery. Feel free to stop by or schedule an appointment with Sandy Neill, our string specialist. We look forward to meeting you.
---
Orchestral String Specialists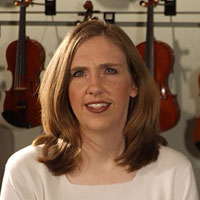 Sandy Neill,
String Instrument Specialist
Sandy Neill has been playing the cello for over 35 years. She studied Music Industry Studies at Millersville University graduating in 1992. Since then she spent 11 years in the Music Industry working for D'Addario & Company, Inc. as Brand Manager for the Bowed String products. She worked with professional musicians, educators and students to develop and market bowed string products that meet the needs for string players. Sandy is dedicated to working with musicians of all levels to help them find the instrument that suits their needs and personality.
---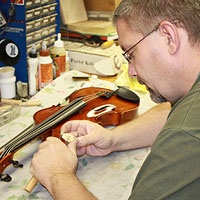 Yuhri Miller,
Lead String Technician
Yuhri Miller is a 1986 graduate of Red Lion Senior High School and a 1991 graduate of James Madison University with a Bachelor of Music Education degree. He has been repairing woodwinds since 1997 and strings since 2002. He has studied string repair and set up with Gary Yu from Eastman Strings and Richard Ervin from NAPBIRT, apprenticed with Master Luthier Michael Sheibley, and studied at the University of New Hampshire Violin Craftsmanship Institute. Yuhri has done work for the band "Live" along with many other local professional string players.
---
For more information or to schedule an appointment:
Menchey Orchestral String Gallery
1185 High Street
Hanover, PA 17331