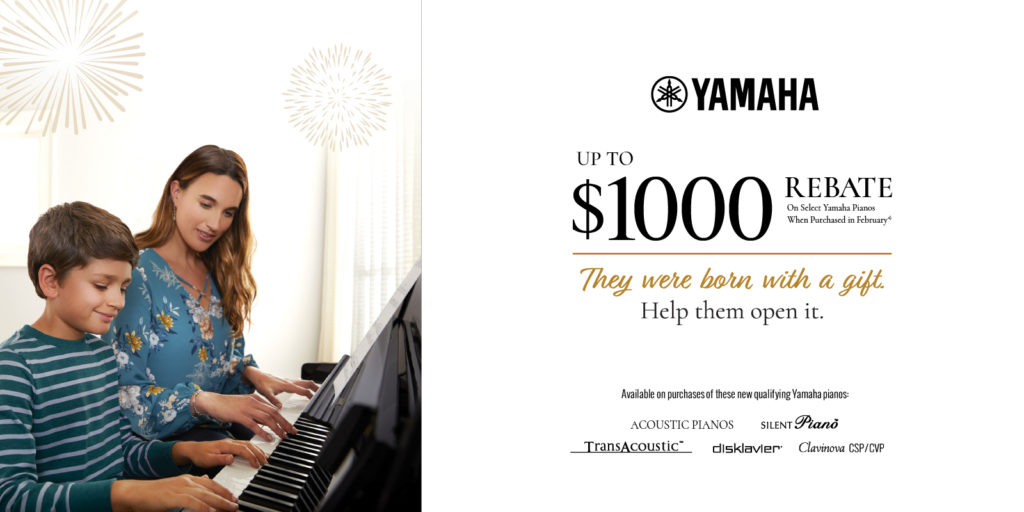 Valid on all qualifying purchases made from 2/1/19 – 2/28/19.
Now Is the Best Time To Buy a Yamaha Piano
If you've been considering a Yamaha piano purchase, you can get a great deal on a fantastic Yamaha piano with generous rebates from Yamaha and Menchey Music!
All Menchey Music stores carry Yamaha Clavinova Digital Pianos. Menchey Music piano showrooms in Lancaster, PA and Timonium, MD feature digital pianos (including Clavinova), acoustics, and Disklavier player pianos.
Yamaha 2019 Lunar Year Rebates
All New Yamaha Upright Acoustic Pianos — Save $150 to $500
All New Yamaha Acoustic Baby & Grand Pianos — Save $250 to $1,000
Select New Yamaha CSP, CLP & CVP Pianos — Save $150 to $500
All New Yamaha Silent Pianos — Save $150 to $1,000
All New Yamaha Disklavier Pianos — Save $250 to $1,000
All New Yamaha Transacoustic Pianos — Save $250 to $1,000
Plus, Exclusive In-Store Rebates at Menchey Music
In addition to Yamaha's rebate offers, Menchey Music stores are offering Special Instant Rebates on all new Yamaha Clavinovas and Acoustic pianos!
Contact Us for More Details
If you have questions about this offer or would like more information, please contact us by calling 888-636-2439 or use the form below. We typically respond to emails within 1 business day.
---
About Menchey Music
Menchey Music Service is a family-owned, full-service school music dealer with retail stores in Central Pennsylvania and Maryland. Since 1936, we have been serving the music needs of students, educators, and parents by offering new and used instrument sales, instrument repair service, and music instruction services.