Welcome to Menchey Bowed String Gallery located in Hanover, PA. Menchey Music Service has been servicing beginning musicians and school music educators since 1936, and now we are pleased to offer intermediate and advanced orchestral instruments to students as well as finely crafted instruments for professionals. Wherever you are on your musical journey, we are now able to fully support you along the way.
---
There are two rooms in the bowed string gallery, the Main Showroom and the Studio. The Main Showroom includes a wide selection of intermediate and advanced instruments, bows, cases and bowed instrument accessories. The Studio is home to our most finely crafted instruments. Both rooms allow customers to try out instruments in privacy and include a comfortable environment for parents and teachers to evaluate the sounds of the instruments. In addition to our own repair shop, we have retained the services of Master Luthier Michael Sheibley to handle instrument set ups in the gallery as well as professional repairs.
We invite you to visit the Menchey Bowed String Gallery. Feel free to stop by or schedule an appointment with Sandy Neill, our string specialist. We look forward to meeting you.
---
Bowed String Staff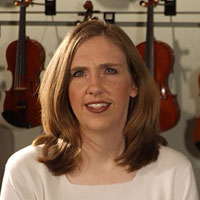 Sandy Neill,
String Instrument Specialist
Sandy Neill has been playing the cello for over 25 years. She studied Music Industry Studies at Millersville University graduating in 1992. Since then she spent 11 years in the Music Industry working for D'Addario & Company, Inc. as Brand Manager for the Bowed String products. She worked with professional musicians, educators and students to develop and market bowed string products that meet the needs for string players. Sandy is excited to work at Menchey Music Service as the Bowed String Specialist to help musicians find the instrument that suits their needs and personality.
---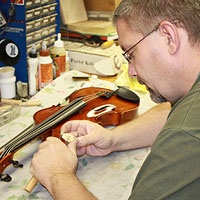 Yuhri Miller,
String Repair
Yuhri Miller is a 1986 graduate of Red Lion Senior High School and a 1991 graduate of James Madison University with a Bachelor of Music Education degree. He has been repairing woodwinds since 1997 and strings since 2002. He has studied string repair and set up with Gary Yu from Eastman Strings and Richard Ervin from NAPBIRT and most recently with Michael Sheibley. Yuhri has done work for the band "Live" along with many other local professional string players.
---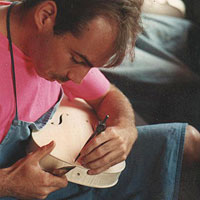 Michael Sheibley,
Luthier
Michael Sheibley began playing the violin at the age of 9. By age 10, he became more interested in the construction of violins and began to pursue those interests. He later moved to the violin making mecca of Bubenreuth, West Germany where he worked under the tutelage and close scrutiny of his father-in-law, Gottfried Raabs. Other training Michael received in Germany included that of Masters Adolf Buchner, Oswald Kunstman, Bruno Kreutzinger, Gerald Hannabach, Kurt Lutz and Gunther Lobe. In 1993, Michael was awarded the bronze medal at the Mittenwald International Violin Making Competition and a "Sonderpreis" or "Special prize" for "Best overall tone", having had the highest point score for tone in both the violin and viola categories. In 1994 and 1996, he won the "Certificate for Tone" for his quartets in the 11th & 12th Violin Society of America International Violin Making Competition, once again having achieved the highest overall score for tone. Currently his fame has come from creating eerily exact reproductions of fine early Italian instruments and he has worked for many of the world's best musicians including Pamela Frank, The Starker Foundation, Christies Auction House NY, Emmanuel Borak, and Eugene Fodor to name a few. At present he owns and operates his full service workshop in Mechanicsburg, PA where he teaches violin making and restoration as well. He owns "Specialty Violin Making Products", a wholesale supplier to the trade. Most recently, his developments in wood technology as well as his advances in microphotography and micro-optics have again brought him international praise.
---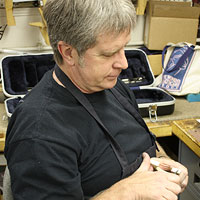 G. Scott Becker,
String Repair
Scott Becker has taught strings at all levels throughout his career as a public school Music Teacher.  In addition to strings, he taught band, choral, general music and guitar at various times in his career.  Since retiring from teaching, Scott has joined the Menchey Music Service staff as a repair technician working with our string rentals, set ups and prepping instruments.  Scott has studied instrument set up, bridge carving, and instrument repairs with Michael Sheibley.  Scott is also an active performing musician, playing with the groups Dave Winter Group, White Bros. Band, Kaleidoscope, Lexicon, Voices, primarily guitar and in the past on viola, Johnstown Symphony Orchestra, Corning Symphony Orchestra, Elmira Symphony Orchestra and the York Symphony Orchestra.
---
Testimonials
"My experience with Menchey Music has been wonderful. Sandy Neill assisted my daughter and me in choosing a violin. She was extremely knowledgeable and patiently answered all of our questions. Sandy went above and beyond what was necessary and guided us in choosing a quality instrument that is sure to provide much enjoyment for years to come. We look forward to doing business with Menchey Music again!"
Jill Glenn
---
"…wonderful violin product selection, personable and knowledgeable …."
Diana Myers,
Instrumentalist
---
"I am happy to recommend Menchey Music, and especially Sandy Niell their string specialist for your string instrument needs. Recently I was in the market for a new viola bow. My schedule is such that I preferred not to have to go into Philadelphia in search for the proper bow. I also wanted to give my business to a local concern if at all possible. I decided to try Menchey Music. I stopped at their Lancaster location to see what was available. The staff there had no knowledge of bows but they were quick to refer me to their string specialist, Sandy. I gave Sandy my parameters and price range. She was quick to track down several viable options and let me try them for several weeks. I came to a decision; one that I am most happy with. I feel that it has made my playing more efficient and enjoyable.
Recently I started to study privately at the Pennsylvania Academy of Music. My viola teacher admired my bow and asked to see it. He was most surprised to see it was the same maker as his bow, so therefore, he certainly gave it his seal of approval!"
Philip E. Smith Violist,
Hershey Symphony Orchestra